Born in 1985, saxophonist Isabella Stabio is a versatile musician, active both as a soloist and as a chamber and orchestral player, both in the classical and contemporary repertoire, who habitually uses all the instruments of the saxophone family. She began studying sax at the age of 9 at the musical courses promoted by the Piedmont Region. Formed first at the Conservatory of Turin (in the class of Pietro Marchetti), where in 2005 she obtained the Diploma in Saxophone with the highest marks, and, in 2007, the Master degree with top marks and honors, she subsequently studied at the Conservatoire National de Région in Lyon in the prestigious class of Jean-Denis Michat where in 2008 she obtained the Diplome d'Etudes Musicales (dominant Saxophone) unanimously and, in 2009 she finished , always in the same class, the Cours de Perfectionnement. At the Lyon Conservatory she also attended chamber music courses with Daniel Foubert and harmony and counterpoint courses with G. Aloy. She participated as student in numerous masterclasses and stages held by world-famous concert saxophonists such as Claude Delangle, Vincent David, Joseph Lulloff, Kenneth Tse, John Sampen, Johannes Ernst, Bruno Totaro, Christian Wirth, Marco Albonetti, Fabrizio Mancuso, Robert Bonisolo , Philippe Braquart, Griffin Campbell, Carrie Koffman, Mario Marzi, Jean-Charles Richard, Otis Murphy, Marcus Weiss, Lars Mlekusch, the Quatuor de Saxophone Habanera, Guillame Orti at the International Saxophone Festival of Faenza (from 2005 to 2009), the Université Européenne pour le Saxophone of Gap, the Conservatoire National de Région of Lyon, the Impuls Academy of Graz. In 2014, she also attended a course in choir conducting held by Gabriele Conti at the Accademia Marziali of Seveso and, again in the aforementioned institution, in 2015, two courses on the introductory method for children "I grow up with music"; she has also taken courses in Music Therapy. She is currently pursuing a master's degree in Musicology at the University of Pavia (detached section of Cremona).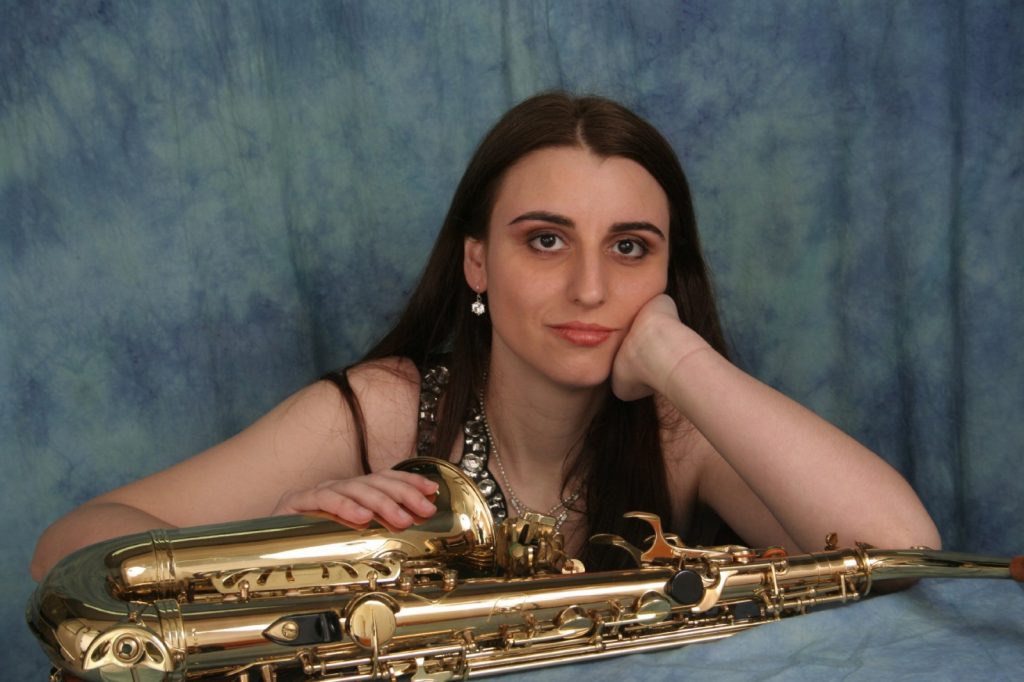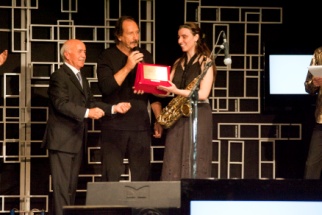 She is the winner of numerous prizes and awards.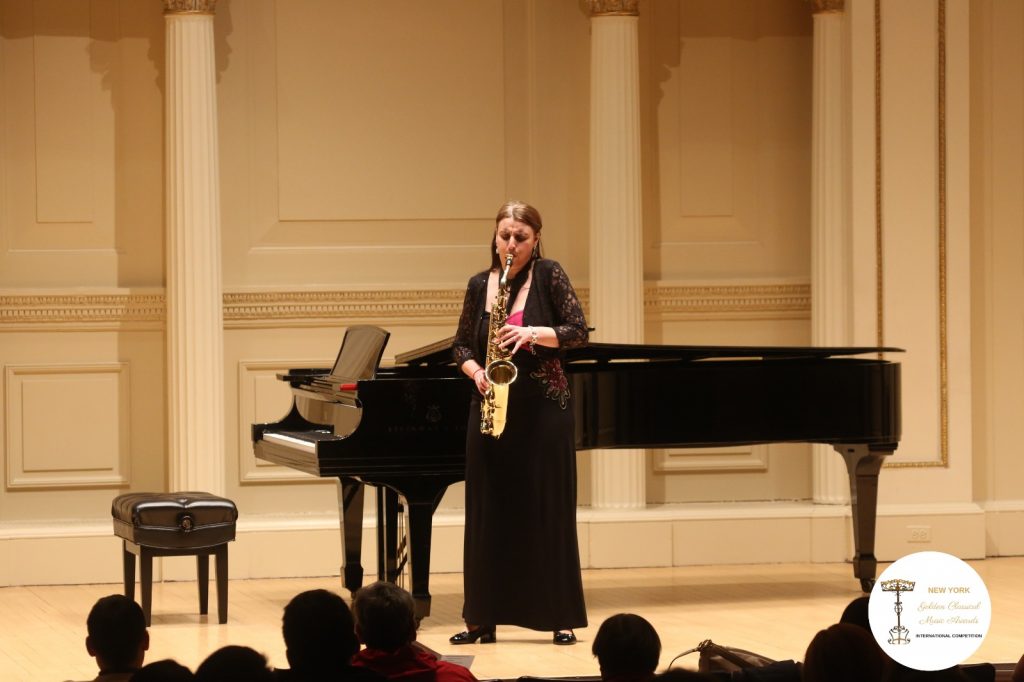 She has performed in prestigious concert halls such as the Weill Recital Hall at Carnegie Hall in New York, the Studio Recital Hall of the Center for Fine Arts in Brussels, the Methuen Memorial Music Hall in Methuen (MA, USA), the Trinity Church in Boston , the Hamburg Cathedral, the Amphi de l'Opéra of Lyon, the Odessa Philharmonic Hall, the György-Ligeti-Saal of Graz, the Bach-Saal of the Christian Albrecht University of Kiel, the Alfieri Theater of Turin, the Ehrbar Saal of Vienna, for national and international festivals (in Austria, France, Germany, England, Norway, Poland, Portugal, Czech Republic, Ukraine, Switzerland, U.S.A.) including: Affetti sonori – Music in concert, I concerti del pomeriggio, International Organ Festival of Santa Rita, Organalia, The new Petites Soirées of the Circolo della Stampa, Chamber Music Turin Festival, Aurore Musicali and Corde Pizzicate in Turin, International Organ Festival of Alba, I mercoledì del Conservatorio at the Conservatory A. Vivaldi of Alessandria, Asti in concert, Chivasso in Musica, Onda d'Urto in Pinerolo, Jeudi du Conservatoire at the Musical Institute of the Aosta Valley, Concerts au chateau Festival de Ville d'Avray in Paris, Contrada largo, Centimetro Zero (Trento), Festival dei Due Mondi in Spoleto (2009 – 2017), Dias da cultura na Dekl in Lisbon, I concerti dei fiori in Orta San Giulio, Abendmusiken in Pallanza, The sounds of the Dolomites, Villa Solomei Festival in Corciano, Letnie Koncerty organowe i Kameralne we Wladyslawowie (Poland), Kirchenmusik in Linz, Musiksommer Bad Schallerbach and Impuls Festival in Graz (Austria), Lunchtime Recitals in Sheffield (England), Organ Recital Series in Methuen, Fridays at Trinity and Tuesday Recital in Boston ( U.S.A.), Elena Lipizer Concert Season in Gorizia, Festival of Modern Art "Two Days and Nights of new Music" in Odessa, Jean Langlais Festival in Brittany, Organo della Pace Festival in Sant'Anna di Stazzema, Portoverde Music Festival in Misano Adriatico. She was chosen to give solo recitals at the World Saxophone Congress in St. Andrew in Scotland in 2012 and at the Strasbourg Sax Open in 2015 and at the European Saxophone Congress in Oporto in 2017. In 2012 she took part at the show by actor Sebastiano Somma "The truth, please, on the lie" held at the Teatro Santa Croce in Luserna San Giovanni. In 2022 she participated in the International Conference for Saxophone Pedagogy and Performance of the University of Florida School of Music, presenting a piece for saxophone and piano by F.A. Cuneo.
Fine interpreter of contemporary music, she collaborates with young composers, she has performed numerous pieces in first performances and she is the dedicatee of pieces composed by Povilas Syrrist-Gelgota, Manuel Chieregato, Carmelo Luca Sambataro, Ilio Volante, Andrea Vezzoli, Raymond Vauterin. Currently, in addition to performing as a soloist, she is a member of various and original chamber groups, such as saxophone and piano duo, saxophone and organ, saxophone and harp, saxophone and accordion, saxophone and cello, trio with voice and piano/organ, saxophone quartets.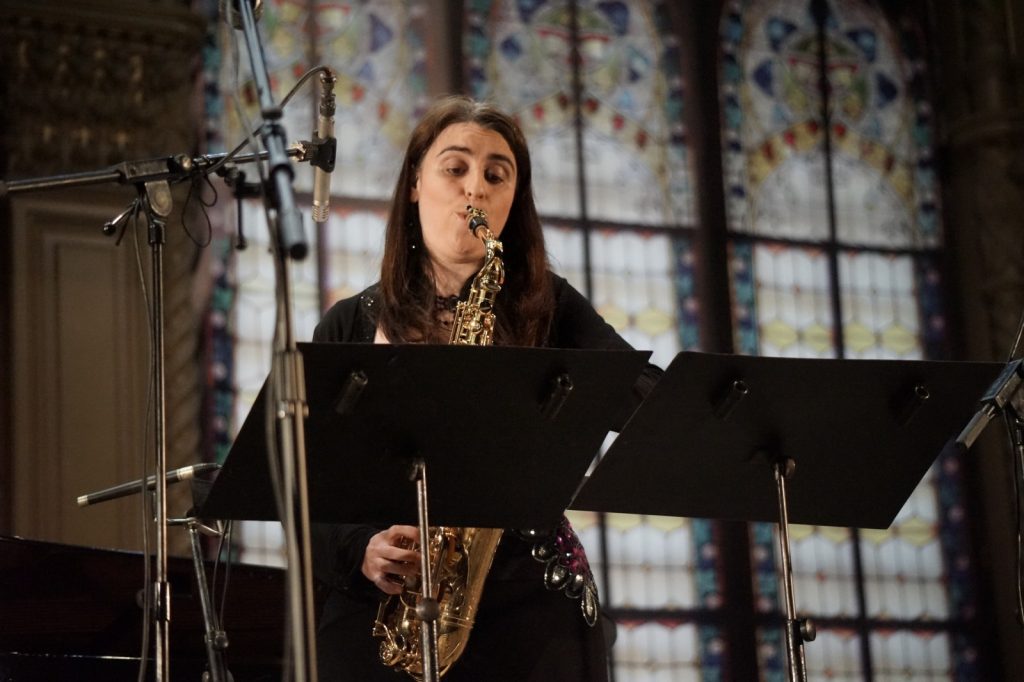 She has performed as a soloist with the orchestras: Wiener Stadtorchester, Bartolomeo Bruni Orchestra of the city of Cuneo, Chamber Orchestra of Rivarolo Canavese, Youth Orchestra of Turin; she has collaborated with: J. Futura Orchestra of Trento, Symphony Orchestra of Asti, Orchestra of Musical Talents, Wind Orchestra of the Bolzano Conservatory, Wind Orchestra of Piedmont, Wind Orchestra of Canavese, San Marco Wind Orchestra, Fiatinsieme Orchestra, Wind orchestra of the Lyon Conservatory, Orchestre de la musique Militare de la Région Terre Sud Est in Lyon, Symphony Orchestra, Wind Orchestra and jazz band of the Turin Conservatory. She has also collaborated with the Fiarì Ensemble and Gruppo cameristico Alchimea of Turin, the L 'Artisanat Furieux saxophone ensemble in Lyon, the Japanese saxophone ensemble E flat, the J. Futura Ensemble, the Kaleydos Ensemble. She also collaborates as a saxophonist with choral groups from Turin: Coro del Bric, gruppo vocale Musica Laus, Coro Imago Vocis of Volpiano, Coro Alpette of Turin.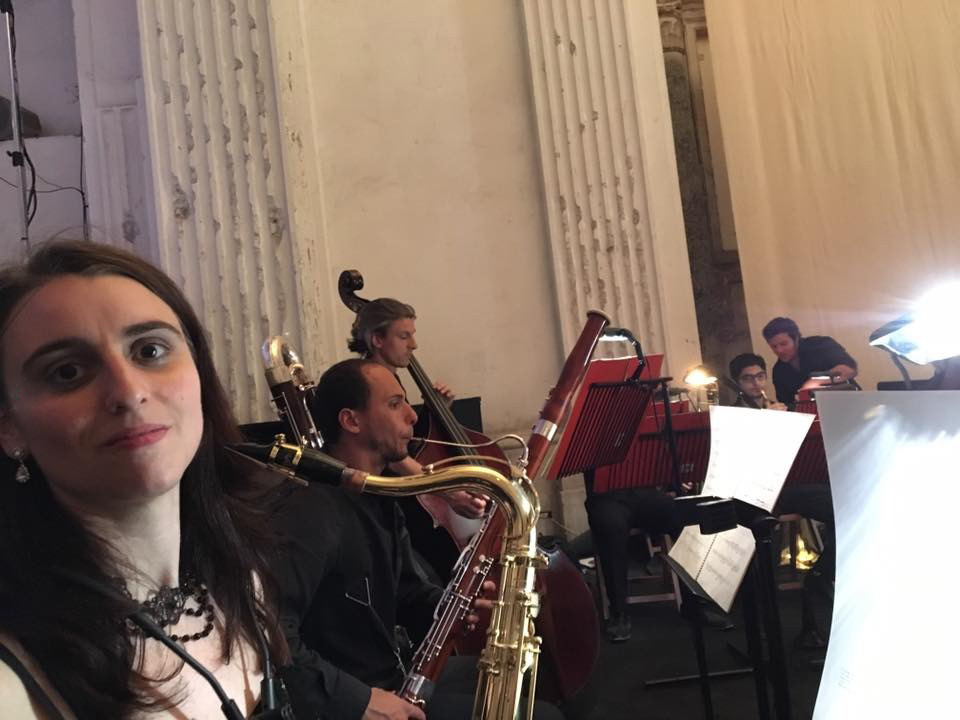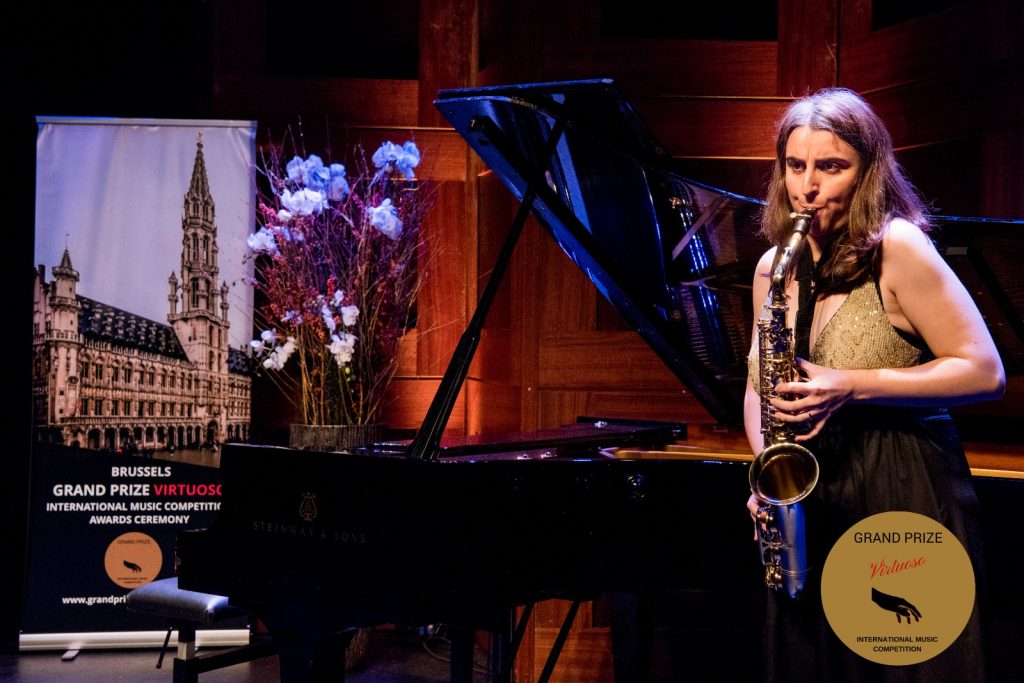 She has recorded the following CDs:
Solo Sax One (2010) with original music by contemporary and 20th century authors
Sax goes Baroque! (2011) with transcriptions of pieces for solo instrument from the Baroque period
Astor Piazzolla – Ritratto d'autore (2011 Elegia records) music by Piazzolla arranged for saxophone and organ (organist Luca Massaglia)
Isabella Stabio – Temperamenti (2014 – Hyperprism musical editions of Perugia), music composed by Maestro Fernando Sulpizi for duo saxophone – piano (with the pianist Benedetta Rossetti) and saxophone and marimba duo (Leonardo Ramadori and Gianni Maestrucci at the marimba)
Sax Vanité – The Thousand Colours of Saxophone (2019 Sheva Collection), original music and transcriptions for saxophone and piano (Isakar Duo, with Carmelo Luca Sambataro)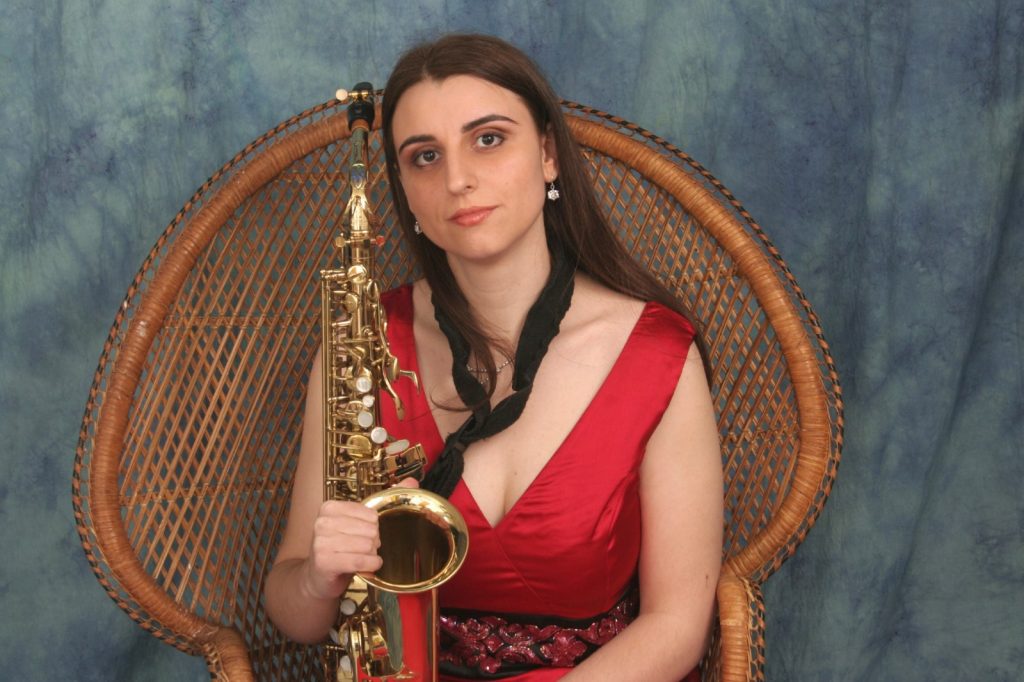 Member of the jury in national and international competitions in the province of Turin, alongside her concert activity she teaches music and saxophone.
See Teaching Experience
. In the 2019 she was Vandoren artist.